Rage Against The Machine To Play With Susan Boyle?
Via NME: "Zack de la Rocha has invited Susan Boyle to sing 'Killing In The Name'with the band at their UK gigs this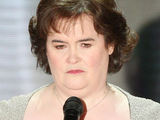 summer.
Despite Rage Against The Machine beating Simon Cowell – who manages Boyle – to the Number One spot in the anti-'X Factor' campaign last Christmas, the frontman says he's keen to make amends with the music mogul.
"The truth is Simon's shows occasionally produce talent," de la Rocha explained, adding: "We love Susan Boyle, she is hot....She is a great vocalist and we would love to perform 'Killing In The Name' with her. "