Nikki Leskinen
Mornings
The other day I saw a Noisey article titled, "Indie Rock Isn't Dead", and it made me think about the state of music that we termed "Indie". The article talks about how music buffs have been lamenting that the era that brought about such powerhouses like The Strokes, Yeah Yeah Yeahs, Franz Ferdinand, The Killers, and The Shins is not producing the sounds that we have grown to love. Even I for awhile suffered from an extreme anxiety about the state of this station: "Where do we go from here?" ; "What sound does the KSLGNATION expect?"; "Is this sound viable?"
The key word here is comfort. The sounds we have associated for so long with Indie music has a sound we have come to expect, something familiar, something comfortable. If you ever have been in a long-term relationship, you realize that comfort can be wonderful but also…(drumroll)..stagnating.
The truth is though we crave the comfortable, it makes for a stagnant sound. It's not original. It's not bold. It becomes irrelevant to modernity.
Sarah MacDonald of Noisey writes, "Indie now is trying to make a space for everyone but, even more important, the producers of this music want to ensure that their audience can take part in that representation." (Hint: THAT MEANS YOU!!!)
You, Yes You! Your participation in this station means that the sounds you like stay. How can you participate? Go vote on the songs you here by clicking the "thumbs up" or "thumbs down" on this website . Keep submitting your songs to KSLG.com or to my email. Finally, keep an open mind about the sounds you are hearing. It can be hard because we get so "comfortable" with certain sounds, but as Ms. MacDonald has pointed out:
"Indie isn't dead. It's evolving".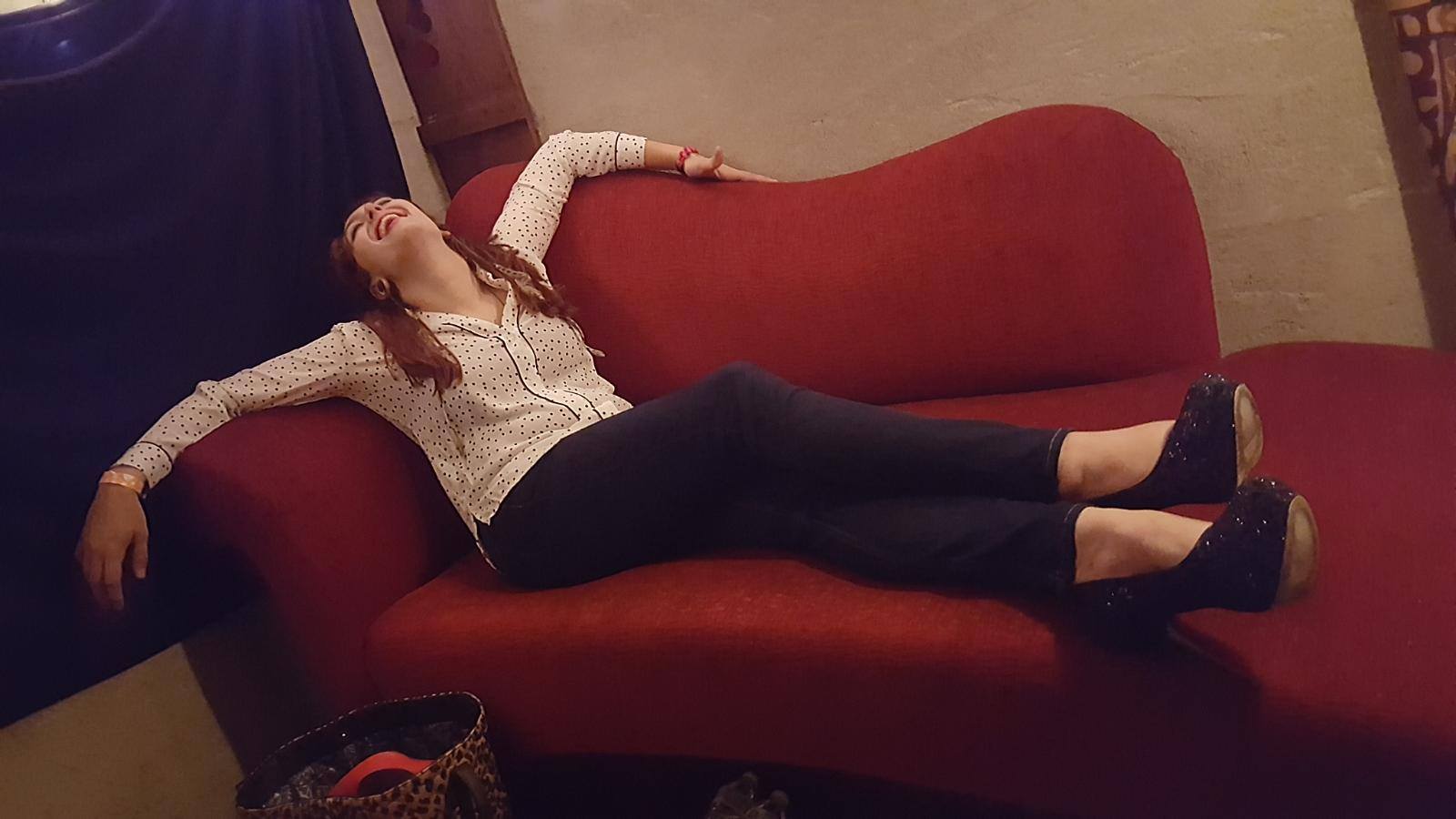 Nikki
PD/MD
Contact Me:
nikki@kslg.com
www.facebook.com/DjNikkaySlikk
www.twitter.com/kslgfm
Favorite Tracks
Did you go searching for love in all the wrong places, only to end up finding it right under your nose? Then you can relate to this song!
The lyrics,"there's iron in my blood, yet so vulnerable," get me every time.
Would you bust your ass for ten years to hopefully have your dream come alive, with no guarantees? Probably most people would say "No", but Amy Shark is that rare exception to the rule, and it seems to be paying off for this Australian artist with star-power potential. Put this one in your "Friday Night Party" playlist.
Arcata Police Chief Tom Chapman came by the KSLG studio to talk about his "Not In Our Town" Letter. His letter addressed racism in our community and the denouncing of the White Supremacist movement. He and Sabina touch on a variety of subjects concerning prejudice and what it means to be a person of color in this community as well as how people can help in reporting racism when they see it. Chief Chapman also speaks about the Fair and Impartial police training set to take place this month. The training is an opportunity for the Arcata Police Department and surrounding law enforcement to come together and talk about racism while addressing concerns of possible bias policing.
Nikki talked to local artist/carver extraordinaire Mike Craghead about being a part of Food Network's "Halloween Wars Season 7" , and how it feels to carve pumpkins in front of judges and cameras. Visit his website http://mikecraghead.com/ to view his work. ********************************** Halloween Wars Season 7 on Food Network: Jonathan Bennett hosts the new season, where six teams composed of a pumpkin carver, cake artist and sugar artist battle it out to create mind-blowing edible Halloween- themed displays. The creations are judged by renowned cake decorator Shinmin Li and horror director and make-up effects master Todd Tucker, along with a rotating panel of celebrity guest judges (on the premiere is Shane West). One team will be eliminated after each episode. In the end, only one team will be declared Halloween Wars Champion and will walk away with a $50,000 grand prize. New episodes air Sundays at 9pm PST on the Food Network.
Dev, Carly and James join Sabina in the KSLG studio to talk about the season premier of their improv troupe's show On The Spot Comedy! Lots of giggles and tie-offs to be heard! Season 2 kicks off this Friday at the Arcata Theatre Lounge!
No one wants the Apocalypse, but here at KSLG we like to be prepared. Memorize these songs because there will be no streaming services after the apocalypse hits. Playlist Songs: AWOLNATION "Sail", Big Data "Dangerous feat. Joywave", Lo Moon "This Is It", Lo Moon "Loveless", Kaleo 'Way Down We Go", Lod Huron "Until The Night Turns", Alt-J "In Cold Blood", The Decemberists "This Is Why We Fight", Lana Del Rey "High By The Beach", Muse "Knights of Cydonia". THANKS TO OUR SPONSORS: Louise's Gourmet Seasoned Finishing Salts, Myrtle Avenue Pet Center, and Companion Animal Foundation *********Other Credits: Muse "Dig Down", Waterworld (1995), Zombieland (2009), The Road (2009), Mad Max: Fury Road (2015), The Twilight Zone: The Shelter (1961), War of the Worlds- Original 1938, Night of the Living Dead (1968), Lord of the Rings: Return of the King (2003), Dr. Strangelove (1964), Hellboy (2004), History Channel's "Nostradamus: 21st Century Prophecies Revealed: Accurate Predictions(2015)", Lord of the Rings: The Two Towers (2002), Divergent: Allegiant (2016), Braveheart (1995), Wayne's World (1992),
Hype Machine is a sweet online music blog that features a ton of music from underground/independent/unknown artists. Here's a few songs we recommend for the indie genre: 1. Sløtface "Pitted" (Sabina), 2. Silver Torches "If I Reach" (Nikki), 3. Trudy And The Romance "Is There a Place I Can Go" (Sabina), 4. Night Flowers "Sleep" (Nikki), 5. Freedom Fry "Party Down" (Sabina), 6. Gang of Youths "Let Me Down Easy" (Nikki)********OUR SPONSORS: Louise's Gourmet Seasoned Finishing Salts, Myrtle Avenue Pet Center, Companion Animal Foundation, and Fungi Lighting********** OTHER CREDITS: Archer (FX), Thunderball (1965), Casino Royale (2006), Rogue Wave "Solitary Gun", The War On Drugs "Pain", Pineapple Express (2008), Bruce Sprinsteen 'Born In The USA", The Big Lebowski (1998), Wolf Alice "Bros", Mazzy Star "Fade Into You", Friends (NBC), Quad City DJ's "Space Jam", MGMT "Electric Feel", Coast Modern "Guru", Journey "Don't Stop Believing".
It's track-by-track analyses of Portugal. The Man (aka "The Lords of Portland")'s 8th album "Woodstock"! *****Track Listing: 1) Number One (feat. Richie Havens & Son Little), 2) Easy Tiger, 3) Live In The Moment, 4) Feel It Still, 5) Rich Friends, 6) Keep On, 7) So Young, 8) Mr. Lonely (feat. Fat Lip), 9) Tidal Wave, 10) Noise Pollution (feat. Mary Elizabeth Winstead & Zoe Manville)- Version A, Vocal Up Mix 1.3. *****OUR SPONSORS: Companion Animal Foundation, Fungi Lighting, Myrtle Avenue Pet Center, and Louise's Gourmet Seasoned Finishing Salts******OTHER CREDITS: The Growlers "Night Right, Rush "Tom Sawyer", Portugal. The Man "Sleep Forever", Portugal. The Man "Purple, Yellow, Red & Blue", Fargo (1996), Spongebob Squarepants, Jimmy Kimmel Live "Cookie Monster", SLC Punk (1998), TRON (2010), Britney Spears "Womanizer", Mozart 'Requiem", Invader Zim, Neighbors (2014), Spice Girls "Say You'll Be There", The Late Show with Stephen Colbert, Donny Hathaway "To Be Young, Gifted and Black", Nina Simone "To Be Young, Gifted and Black", JAY-Z "Young, Gifted and Black", Akon "Mr. Lonely", American Guy, Snowmine "Tidal Wave", Scott Pilgrim vs. the World (2010)