Nikki Leskinen
Mornings
The other day I saw a Noisey article titled, "Indie Rock Isn't Dead", and it made me think about the state of music that we termed "Indie". The article talks about how music buffs have been lamenting that the era that brought about such powerhouses like The Strokes, Yeah Yeah Yeahs, Franz Ferdinand, The Killers, and The Shins is not producing the sounds that we have grown to love. Even I for awhile suffered from an extreme anxiety about the state of this station: "Where do we go from here?" ; "What sound does the KSLGNATION expect?"; "Is this sound viable?"
The key word here is comfort. The sounds we have associated for so long with Indie music has a sound we have come to expect, something familiar, something comfortable. If you ever have been in a long-term relationship, you realize that comfort can be wonderful but also…(drumroll)..stagnating.
The truth is though we crave the comfortable, it makes for a stagnant sound. It's not original. It's not bold. It becomes irrelevant to modernity.
Sarah MacDonald of Noisey writes, "Indie now is trying to make a space for everyone but, even more important, the producers of this music want to ensure that their audience can take part in that representation." (Hint: THAT MEANS YOU!!!)
You, Yes You! Your participation in this station means that the sounds you like stay. How can you participate? Go vote on the songs you here by clicking the "thumbs up" or "thumbs down" on this website . Keep submitting your songs to KSLG.com or to my email. Finally, keep an open mind about the sounds you are hearing. It can be hard because we get so "comfortable" with certain sounds, but as Ms. MacDonald has pointed out:
"Indie isn't dead. It's evolving".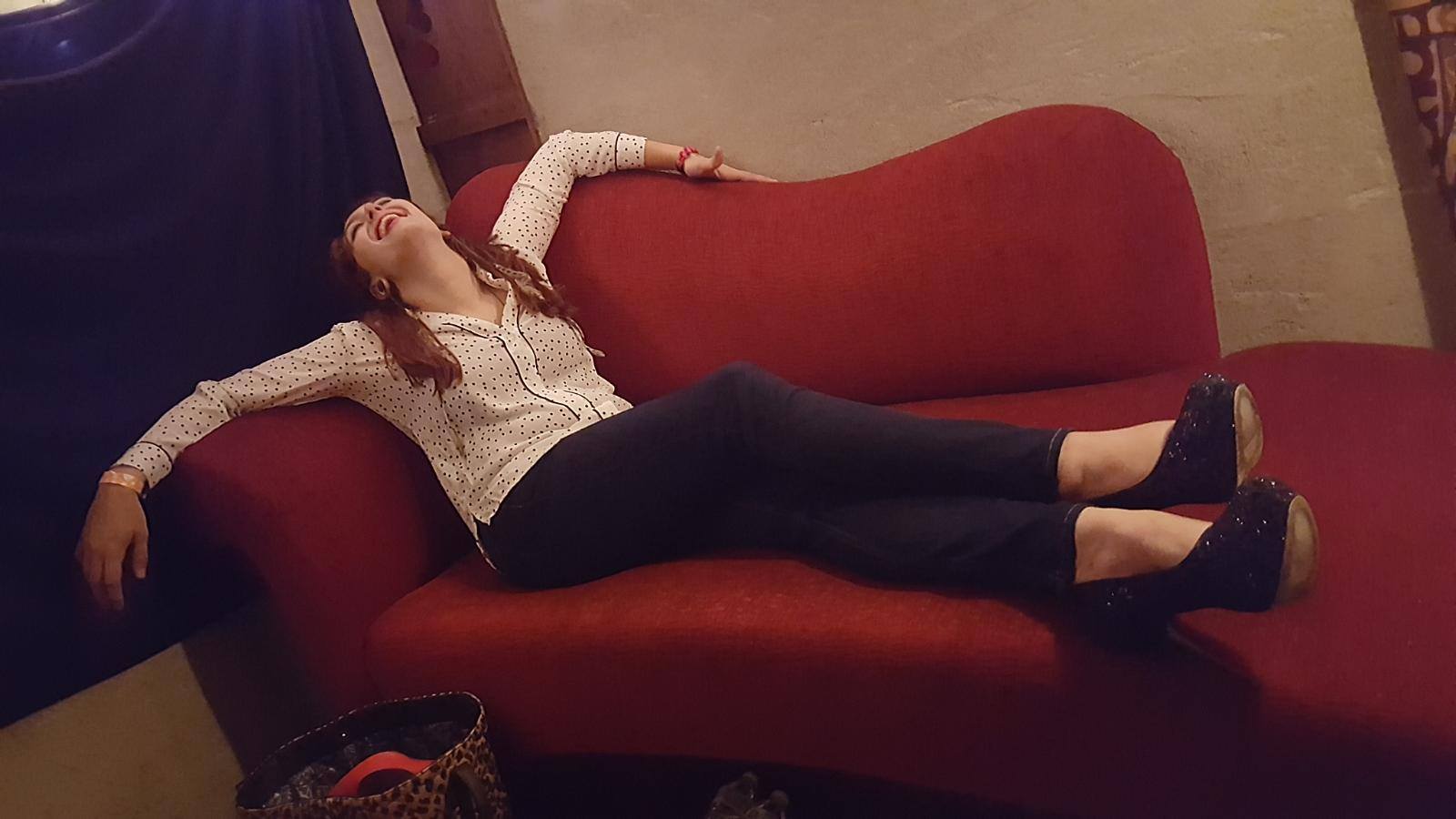 Nikki
PD/MD
Contact Me:
nikki@kslg.com
www.facebook.com/DjNikkaySlikk
www.twitter.com/kslgfm
Favorite Tracks
This Aussie youngster overcame drug addiction and found a new one: passionate, raw, and organic music that gives you goosebumps. Also she plays 10 instruments. How cool is that!?
This gorgeous/sexual track also features the vocals of Wolf Alice front woman Ellie Rowsell. We think the three worn words are " I Love You", but it's Alt-J, so we are only guessing here!
This song has a smoky atmospheric haze that suddenly explodes with its sexy frenetic chorus. Add to your "Friday Night Love" playlist ;)
Nikki Leskinen on The Morning Show, got to talk to drummer and one of the founding members of Young the Giant, Francois "Fran" Comtois during the partial solar eclipse in Humboldt County. Fran and Nikki talked immigration, where the most intense Young The Giant Fans are, what song off the band's latest record "Home of the Strange" will get you laid, and Fran's secret food addiction. There's more coolness in store for you. Take a listen and visit www.youngthegiant.com/ to see where these down-to-earth dudes will be playing near you!
On the Morning Show, Nikki interviewed Animal Planet's "Finding Bigfoot" cast member Bobo and producer Ryan who are in town in anticipation for the "Finding Bigfoot Festival", happening Saturday, April 29th at the Veterans park in Willow Creek. Thanks to sponsors Emerald Family Farms and the Willow Creek Chamber of Commerce for making this "squatchy" event possible. More details at http://findingbigfootfestival.com .
Indie Pop duo OH WONDER is currently touring North America and are soon to be releasing their sophomore album "Ultralife", June 19th. The KSLG girls, Nikki and Sabina, caught up with Josephine and Anthony and asked them a few questions while simultaneously almost breaking up the band...not really!
It's track-by-track analyses of Portugal. The Man (aka "The Lords of Portland")'s 8th album "Woodstock"! *****Track Listing: 1) Number One (feat. Richie Havens & Son Little), 2) Easy Tiger, 3) Live In The Moment, 4) Feel It Still, 5) Rich Friends, 6) Keep On, 7) So Young, 8) Mr. Lonely (feat. Fat Lip), 9) Tidal Wave, 10) Noise Pollution (feat. Mary Elizabeth Winstead & Zoe Manville)- Version A, Vocal Up Mix 1.3. *****OUR SPONSORS: Companion Animal Foundation, Fungi Lighting, Myrtle Avenue Pet Center, and Louise's Gourmet Seasoned Finishing Salts******OTHER CREDITS: The Growlers "Night Right, Rush "Tom Sawyer", Portugal. The Man "Sleep Forever", Portugal. The Man "Purple, Yellow, Red & Blue", Fargo (1996), Spongebob Squarepants, Jimmy Kimmel Live "Cookie Monster", SLC Punk (1998), TRON (2010), Britney Spears "Womanizer", Mozart 'Requiem", Invader Zim, Neighbors (2014), Spice Girls "Say You'll Be There", The Late Show with Stephen Colbert, Donny Hathaway "To Be Young, Gifted and Black", Nina Simone "To Be Young, Gifted and Black", JAY-Z "Young, Gifted and Black", Akon "Mr. Lonely", American Guy, Snowmine "Tidal Wave", Scott Pilgrim vs. the World (2010)
We like red wine. We like KSLG. How about pairing different red wine varieties with KSLG songs...seems like a no-brainer! OUR SPONSORS: FUNGI LIGHTING, MYRTLE AVENUE PET CENTER, COMPANION ANIMAL FOUNDATION, AND LOUISE'S GOURMET SEASONED FINISHING SALTS..... Wine and Songs Mentioned: 1. Merlot (Alt-J "3ww" & Arctic Monkeys "Do I Wanna Know"), 2. Pinot Noir (Los Bears "Slow Jam" & Maggie Rogers "Alaska"), 3. Cabernet Sauvignon (The Black Keys "Howlin' For You" & The Avener "Fade Out Lines"), 4. Petite Sirah (Josef Salvat "Every Night" & Honeyblood "Ready For The Magic"), 5. Malbec (Josef Salvat "Every Night" & Glass Animals "Life Itself"), 6. Zinfandel (Car Seat Headrest "Drunk Drivers/Killer Whales" & Lo Moon "This Is It").....Listener Mail: Daft Punk "One More Time", Big Audio Dynamite "Rush", The Black Keys "Gotta Get Away", The Statler Brothers "Flowers on the Wall", and The Flaming Groovies "Shake Some Action" and Bare Naked Ladies "Adrift"........ Credits to: UB40 "Red Red Wine", Peaches and Herbs "Reunited", Rush Hour 2, John Christ Comedy:"Millennial International", Buzzfeed "Women Who Love Wine", Sideways, It's Always Sunny in Philadelphia, Home Improvement, Free Willy, The King and I (1956), Team Twin "Turnt Up", The Simpsons, Collegehumor "Getting Drunk on Wine(Hot Date)", Tchaikovsky 'Romeo & Juliet Overture", Family Guy*****Disclaimer*** KSLG does not condone underage drinking or driving under the influence of any sort. This podcast was created for entertainment purposes only. You must be 21 to consume alcoholic beverages.
So you're going on a roadtrip? First, take us with you, and secondly, consider these songs on your playlist: The Shins "Fantasy Island", The Lumineers "Sleep On The Floor", Amy Shark "Adore", Bay Ledges "Safe", Portugal. The Man "Feel It Still", Kings of Leon "Beautiful War", Young The Giant "Jungle Youth", Alt-J "In Cold Blood", AWOLNATION "Sail"....and SAVAGE GARDEN "Truly.Madly.Deeply" !!!**** THANKS TO OUR SPONSORS: Fungi Lighting, Louise's Gourmet Seasoned Finishing Salts, Myrtle Avenue Pet Center, and Companion Animal Foundation. ****** Credits:Temples, "Mesmerize", "National Lampoon Vacation", "Waterboy", "Sideways", Adele "Hello", 'Paper Towns", "Roadtrip", "Tommy Boy" , "Billy Madison", and Shia Labeouf.