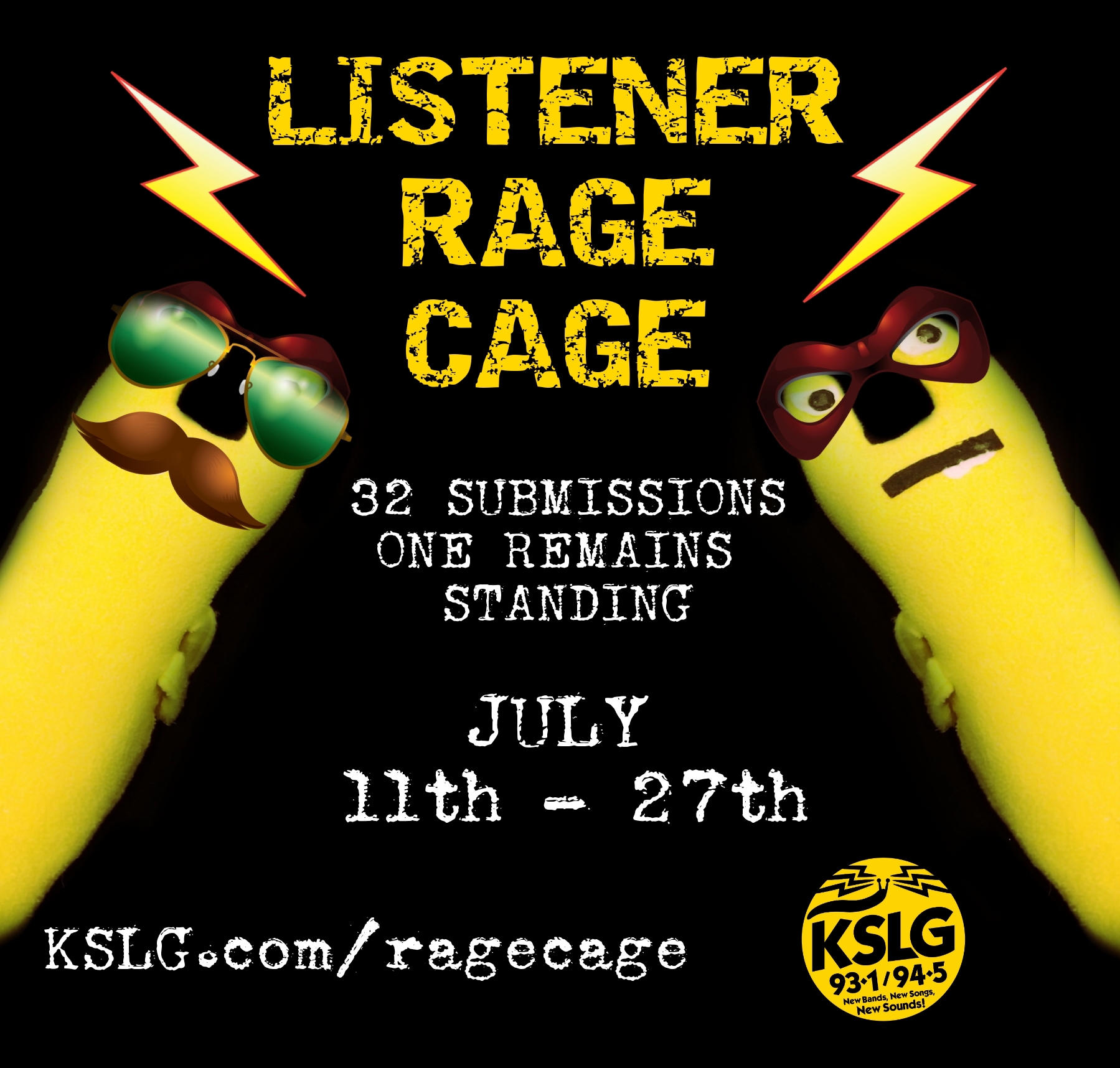 Welcome to Rage Cage!!!
32 submissions enter....only 1 remains standing.
It's up to you KSLGNATION to let us know which songs move forward, and which songs have run their course in the competition BY VOTING.
Directions
1) Starting July 11th, listen in to The Morning Show and Afternoons With Sabina during voting times (see "Tentative Voting Schedule" below).
2) Listen to the two competing listener submissions, and vote for ONE.
Two Ways to Vote
a) Call the studio (707)-786-5784 and tell us your choice.
b) Click the "Thumbs Up" at KSLG.com.
3) The submission with the most votes in its favor advances to the next round of the competition, and the winner of that round receives a prize .
4) The Final Round takes place on July 27th , and the Grand Prize Winner is announced at 4pm PST.
THANKS TO OUR SPONSORS:
LOST BOYS IN ARCATA, specializing in Brazilian Jiu-Jitsu with a brand new gym. Visit their website for member pricing and schedules!
LOTUS STUDIO POTTERY : offering pottery lessons, studio rentals, team building, date night and unique pottery store by local artists in Old Town Eureka. Book your appointment today.
MURPHY'S MARKET... More than a Grocer, Your Neighbor Since 1971. Join the on Facebook today!
CLICK HERE TO VIEW THE RAGE CAGE COMPETITION BRACKET.
Tentative Voting Schedule:
Lightning Rounds - July 11-20 (9:30, 12:30, 3:30)
Quarter Finals - July 23 & 24 (9:30 & 3:30)
Semi-Finals - July 25 & 26 (9:30 & 3:30)
THE FINAL SHOWDOWN - July 27 (9:30 & 3:30)* the Final voting round will be conducted twice to ensure the largest amount of listeners have their say in who deserves the Grand Prize.
Prizes
Grand Prize Winner: A Prize Package, which includes 1) Tickets to see The Head and The Heart @ The Arkley Center in Eureka Sept 21st 2) Tickets to see Interpol at The Greek in Berkley October 6th and 3) $100 Gift Certificate to Folie Douce in Arcata. The winner's song is also added into the KSLG rotation.
Semi-Finalists to Final Two: A Prize Package, which includes 1) a Portugal. The Man official band tee 2) a $25 dollar gift certificate to The Jam in Arcata and 3) a $50 gift certificate to The Grind Cafe
Quarter Finalist to Semi Finals: $50 Gift Certificate to Six Rivers Brewery in McKinleyville
Lightning Round to Quarter Finals: KSLG Bumper Sticker
Thanks to Center Arts for contributing to our Grand Prize. Visit their website for this season's lineup and for ticket information.
Special Rules and Considerations
Contestants will be emailed in advance of the competition, and subsequently notified if they have won prizes during various rounds.
Registered contestants may win more than one prize in a period of less than 14 days.
Many of the prizes in this competition are only applicable in the local Humboldt area. The only prize substitution we can do for out-of-area listeners is a bumper sticker. Sorry, no international shipping.
One Vote Per Person Per Competition Bracket
Standard Contest Rules and Prize Information can be read here.